Transportation / Travel Information
The conference will be organised at the University Twente (Sunday) and the Grolsch Veste (Monday-Wednesday)
University of Twente – Campus 
Carre building (entrance via building Hal B)
Hallenweg 23
Grolsch Veste
Colosseum 65
7521 PP Enschede
Please use this link to Google Maps where both locations are shown as well as other relevant locations, which might be helpful when planning your trip.
Travelling to BIOROB2018
By Plane:
If you come by plane, usually you fly into Schiphol, the largest airport in the Netherlands, close to Amsterdam. There is an intercity train from Schiphol Airport that goes straight to Enschede Central Station. The trip from Schiphol to Enschede takes about two hours.
From Dusseldorf Airport it takes about 4 hours by train to Hengelo railway station. You can switch trains in Hengelo and travel further with a regional train to Enschede Central Station or to the railway station 'Kennispark Enschede'.
By Car:
The following car rental companies all operate out of Amsterdam Schiphol International Airport: Avis, Budget, Europcar, Hertz, National and Sixt. From the A1 motorway, take the A35 motorway towards Enschede.
Use Google maps or any other navigation system to plan your route to the University or Grolsch Veste.
There are car parks at the campus of the University of Twente and the Grolsch Veste free of charge
By Train:
Enschede, Hengelo, or Enschede Kennispark are easily accessible with the train. Most hotels are in walking distance from one of these stations and the station Enschede Kennispark is right in front of the conference venue and is only a 15 minute walk from the University of Twente Campus.
Be aware that different companies are active on the Dutch railway network, being NS and Blauwnet. NS has a nationwide network and Blauwnet runs the most frequent trains in the Enschede area. You can either purchase a separate ticket for each journey at the train stations to travel with a specific company or purchase an anonymous public transport chip card which allows travelling with all public transport companies. Before travelling you need to check in with your ticket or card at a pole and before leaving the station you need to check out. Make sure you check in and out at a pole of the same company, a yellow one when travelling with NS and a blue one when travelling with Blauwnet.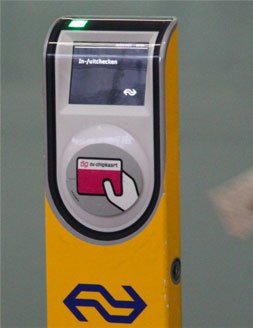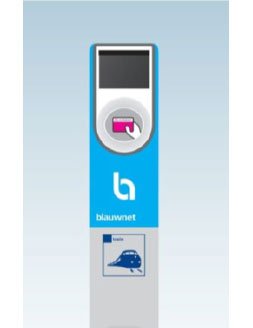 By bus:
Bus 1 stops at Enschede Kennispark/Grolsch Veste and drives to the University of Twente (Drienerburght Hotel/BBQ) or Enschede city Centre (Train stations / Welcome Reception). Bus 9 stops at De Broeierd Hotel and drives to Hengelo City Centre or Enschede city Centre (Train stations / Welcome Reception).
In your conference bag, you find 3 day bus-tickets to use on Monday, Tuesday or Wednesday to travel in all busses in Enschede. Please show them at the bus driver and show your Conference Badge for identification. Alternatively, you can pay your ticket in cash or with your debit or credit card using contactless payment or use an anonymous public transport chip card (buy at train stations) to check in when you enter the bus and check out when you leave the bus again.
Schedules and information public transport
For all public transport schedules, use http://9292.nl/en or use Google maps to plan your journey.
Please visit this website for more information on the public transport chip card: https://www.ov-chipkaart.nl/home-1.htm#/